Discover: search our books, journals, articles and more
Discover:
search for articles, books and more
Latest News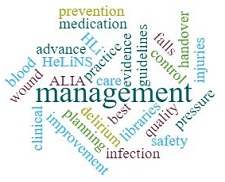 Live PubMed searches on the NSQHS Standards
The Health Libraries for the National Standards (HeLiNS) Project has put together a series of live PubMed searches on the National Safety and Quality Health Service (NSQHS) Standards. Developed and tested by health librarians, these searches are free and run live in current PubMed, providing up-to-date results on eleven key health areas.
Click here to access the searches: https://www.alia.org.au/groups/HLA/nsqhs-standards-live-literature-searches
They are intended to be used by clinicians, researchers and stakeholders who want reliable and current evidence-based information to support their decison-making processes.
The HeLiNS Project is a joint initiative of Health Libraries Australia and Health Libraries Inc. This project explored and recorded the contribution health libraries make to the achievement of hospital accreditation with a view to demonstrating their value. More information about the project can be found here: https://www.alia.org.au/helins-health-libraries-national-standards-outcomes-national-research-project
Contact Us
E: knowledgeservices@epworth.org.au
T: 03 9426 6134 (Richmond)
T: 03 5271 7888 (Geelong)
RSS feed for system-wide library news.