Discover: search our books, journals, articles and more
Three Steps to Happiness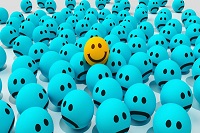 Are you having problems locating evidence-based resources for your work? Do you need some guidance on conducting a literature review? Have you just started post graduate studies and are struggling to interpret your essay question?
If you have answered 'Yes' to any of these questions, then Epworth Knowledge Services is here to help.
We have recently launched a series of self-help guides that provide easily accessible resources for early career researchers, educators and staff returning to study.

Steps to Information, Research and Learning Happiness have been developed in response to commonly asked questions at the library desk and through in-services. Each guide walks you through a series of topics including:
Finding and using information;
Understanding research questions;
Referencing and citation management;
Research metrics; and
Clinical and academic writing.
The guides are easily accessible through the EKS webpage under the 'How To Guides" list. Feedback, suggestions for amendments or ides for new guides are always welcome and can be emailed directly to Knowledge Services.
RSS feed for system-wide library news.