Discover: search our books, journals, articles and more
Steps to Exam Preparation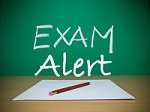 Exams can be stressful, there's no getting away from it. However the real secret to exam success is all in the preparation. The more time and attention you give to preparing for your exams, the better the outcome.

Epworth Knowledge Services has complied a Steps to Exam Preparation guide to help you along the way. Topics include:
Being prepared
Revision in action
Managing the exam
Practising self care
You can find all this and more on our Steps to Learning Happiness guide.
RSS feed for system-wide library news.